Health
Occupational Health Management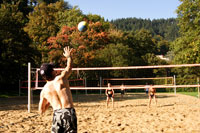 According to the Landespersonalvertretungsgesetz (LPVG - state staff representation act) of Baden-Württemberg, the Staff Council has full co-determination rights with regard to "measures of official or occupational health management, including preparatory and preventive measures, general issues of official or occupational integration management, measures based on findings from risk analyses" § 74, Para. 2, Clause 8 LPVG.
In this context, we are involved in the "Occupational Health Management" (Betriebliches Gesundheitsmanagement - BGM) working group.
Betriebliches Eingliederungsmanagement (BEM)
If an employee is incapacitated for work continuously or repeatedly for more than six weeks in total within a year, occupational integration management is initiated. An operating agreement on BEM has been in force since July 16, 2014. Further information on occupational integration management can be found on the "Service A-Z" pages of the Rectorate.
Here you can find an excerpt from the Social Code IX (SGB 9), § 167, Paragraph 2 (in German):
(2) Sind Beschäftigte innerhalb eines Jahres länger als sechs Wochen ununterbrochen oder wiederholt arbeitsunfähig, klärt der Arbeitgeber mit der zuständigen Interessenvertretung im Sinne des § 176, bei schwerbehinderten Menschen außerdem mit der Schwerbehindertenvertretung, mit Zustimmung und Beteiligung der betroffenen Person die Möglichkeiten, wie die Arbeitsunfähigkeit möglichst überwunden werden und mit welchen Leistungen oder Hilfen erneuter Arbeitsunfähigkeit vorgebeugt und der Arbeitsplatz erhalten werden kann (betriebliches Eingliederungsmanagement). Soweit erforderlich, wird der Werks- oder Betriebsarzt hinzugezogen. Die betroffene Person oder ihr gesetzlicher Vertreter ist zuvor auf die Ziele des betrieblichen Eingliederungsmanagements sowie auf Art und Umfang der hierfür erhobenen und verwendeten Daten hinzuweisen. Kommen Leistungen zur Teilhabe oder begleitende Hilfen im Arbeitsleben in Betracht, werden vom Arbeitgeber die Rehabilitationsträger oder bei schwerbehinderten Beschäftigten das Integrationsamt hinzugezogen. Diese wirken darauf hin, dass die erforderlichen Leistungen oder Hilfen unverzüglich beantragt und innerhalb der Frist des § 14 Absatz 2 Satz 2 erbracht werden. Die zuständige Interessenvertretung im Sinne des § 176, bei schwerbehinderten Menschen außerdem die Schwerbehindertenvertretung, können die Klärung verlangen. Sie wachen darüber, dass der Arbeitgeber die ihm nach dieser Vorschrift obliegenden Verpflichtungen erfüllt.
You are welcome to contact the Staff Council if you have any questions about the BEM, for example if you have received a letter of invitation.
Sports/Leisure
Employees of the University of Freiburg can become members of Sportpark Freiburg at reduced rates upon presentation of their UniCard.
Every 1st Thursday of the month, discounted tickets for the Keidel-Thermal Baths and the sauna are sold at the Staff Council office.
Pausenexpress: The Staff Council actively advocates for the institutionalization of the so called Pausenexpress (short active break) at the University.
External counseling service
Help with conflicts, crises, addiction problems.
Working groups the Staff Council participates in