Family and career
Reconciling family and work concerns topis such as maternity protection, parental leave, parental allowance, childcare, family-related breaks and part-time work, as well as issues relating to the care of relatives.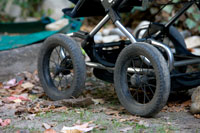 The Staff Council actively promotes the compatibility of family and career and supports all employees with questions and problems concerning this topic.
As a member of the working group "Family- Friendly University", we represent the interests of our employees at organizational and structural level. We support the concept of a "family-friendly University of Freiburg" for the compatibility of work, family and private life and for the creation of family-friendly structures.
We are in constant exchange with the Family Service, which offers a great deal of information on the topic of work-life balance for employees and doctoral candidates of the University of Freiburg on its website and supports the childcare facilities with the Familienservice gGmbH.
We offer individual consultations on the topics of maternity protection, parental leave, parental allowance, and on the care of relatives. We also try to help you competently with individual questions by telephone or e-mail. Please do not hesitate to contact us. All consultations and inquiries are treated confidentially.
Working groups the Staff Council participates in