Safety at work
One of the general tasks of the Staff Council is to ensure that the provisions relating to safety at work are observed.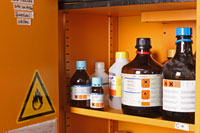 Occupational safety and health is a broad field. More and more emphasis is being placed on prevention in order to maintain the health of employees into retirement age.
In principle, the employer is responsible for compliance with the laws and regulations relating to safety at work. In the Landespersonalvertretungsgesetz (LPVG - state staff representation act), reference is made several times to the prevention of accidents and health hazards, and the Staff Council is assigned a control function. It is sometimes also referred to as the "guardian of occupational health and safety".
The Staff Council participates in occupational safety and accident inspections and also receives all accident reports. We work closely with the Department of Safety and the Occupational Health Service, who also provide advice to us. The topics in the field of safety at work are diverse and include all factors that could jeopardize health. They include aspects such as  indoor climate, workplace equipment and work clothing, as well as preventive medical checkups, measures based on risk assessments or psychological stress, to name just a few.
Participation rights of the Staff Council in the field of occupational health and safety
ASA (Arbeitsschutzausschuss - Occupational Safety Committee)
The Staff Council participates as a permanent member in the ASA meetings of the University of Freiburg. In these meetings, we deal with questions concerning occupational health and safety, as well as accident prevention. The Staff Council makes suggestions for the protection and well-being of the employees and works towards compliance with the current occupational health and safety regulations.